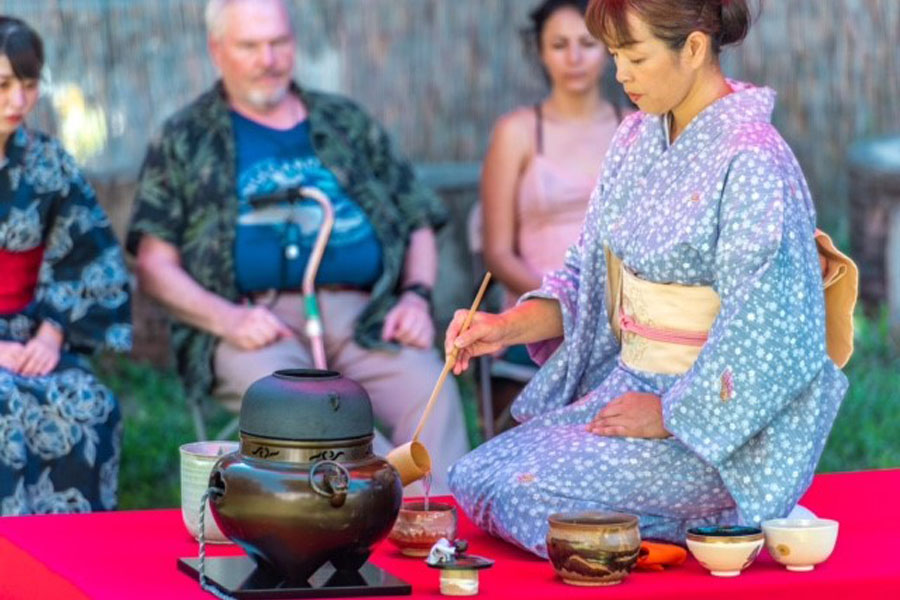 The Shumei Arts Council will host two Japanese Tea Ceremony demonstrations during the opening reception for "Crafted from the Earth: The Rugged Beauty of Shigaraki Ceramics" exhibition on November 3 which runs from 2 pm to 5 pm. This event is part of the citywide A x S Festival: City as Wunderkammer.
The Japanese tea ceremony involves the ceremonial preparation and presentation of matcha (抹茶), or powdered green tea. In Japanese, the tea ceremony is called chanoyu (茶の湯) or sadō/chadō (茶道), while the art of its performance is called (o)temae ([お]手前; [お]点前).  Zen Buddhism was a primary influence in the development of the Japanese tea ceremony.
Tea ceremonies can be held in an informal tea gathering chakai (茶会, tea gathering) and a formal tea gathering chaji (茶事, tea event). A chakai is a relatively simple course of hospitality that includes confections, thin tea, and perhaps a light meal. A chaji is a much more formal gathering, usually including a full-course kaiseki meal followed by confections, thick tea, and thin tea. A chaji can last up to four hours.
This event is free to observe.
The demonstrations start at 3 pm & 4 pm and are $10 per person to participate in the ceremony and enjoy organic wagashi (traditional Japanese sweets) and special green tea. RSVPs are required and can be made by calling the Shumei Hall at 626 584 8841.
Location
Shumei Hall Gallery
2430 E Colorado Blvd.
Pasadena, CA 91107
---
Explore Related Taxonomies → Naturalia, Three Kingdoms of Nature