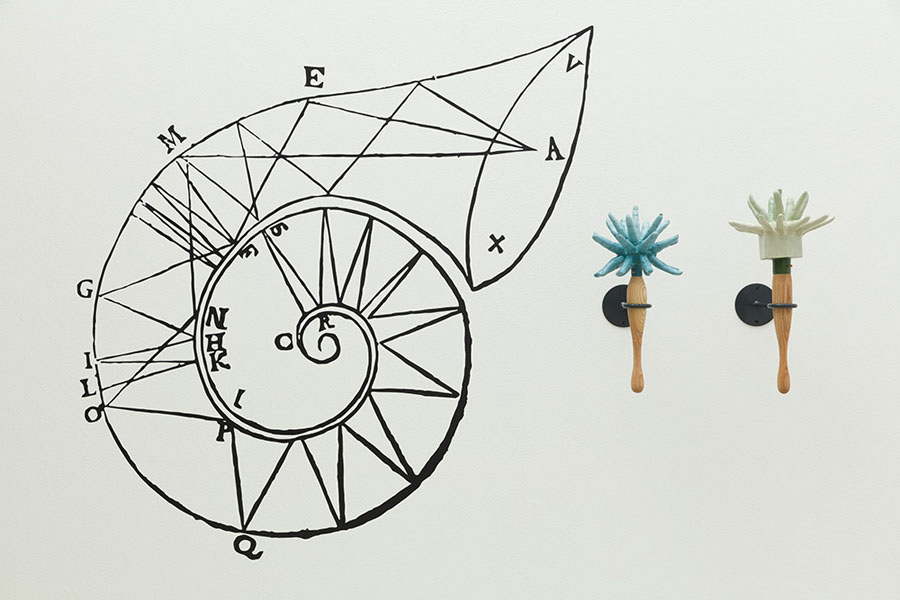 When creating his Wunderkammer—a hall of amazing artifacts—Renaissance scholar Athanasius Kircher invented the megaphone in order to enhance the voices of those responding to his unbelievable relics. In her new exhibition, Instruments of Accountability, Elana Mann traces the relationship of early listening devices, like those fabricated by Kircher, to modern-day protest movements in order to amplify public dissent. Scheduled to coincide with the upcoming 2018 midterm elections, Mann's exhibition will address our current moment of political reckoning, both materially and metaphorically.
Comprising sculptural instruments, musical scores and a 1960s hand-crafted mega-kazoo-horn—on loan from the Folk Music Center in Claremont—Instruments of Accountability is the largest solo exhibition of Mann's artwork to date and is the culmination of a year-long residency with Pitzer College's ceramics program. Mann's artworks blend sculpture and performance, blur the line between meditative objects and political engagement, and bring a greater consciousness to the listening and speaking we practice in everyday life.
Mann's instruments suffuse the human figure with acoustic properties. Her blame-game rattles and me-and-you-kazoos function both as highly crafted objects and utilitarian devices, accessible for audiences to play and handle in art as well as activist settings. In addition to the sculptural components Mann has invited composers, artists, and poets to produce scores for the exhibition, which will be performed throughout the show. The Japanese-Korean feminist art collective Tomorrow Girls Troop (TGT) also collaborated with Mann on posters that call attention to the erosion of women's and LGBTQI rights in the current political administrations in the USA and Japan. Audiences can respond to these collaborative posters by calling 323 Projects, a telephone line as an exhibition site initiated by Tucker Neel, and leave messages answering the question: "What if women were in charge?" The audiences' responses will be broadcast periodically from Pitzer's clock tower throughout the duration of the exhibition.
Location
Pitzer College Art Galleries
1050 N. Mills Avenue
Claremont, CA 91711
Image: Elana Mann, blame-game rattle series (2018)
Facsimile of diagram by Athanasius Kircher (production of sound in snail tubes) from: Athanasius Kircher, Musurgia Universalis (1650), Hildesheim: Georg Olms, 1999.
---
Explore Related Taxonomies → Artificialia, Listening Tools